Queen Elizabeth Commonwealth Scholarships at University of Technology in Papua New Guinea 2020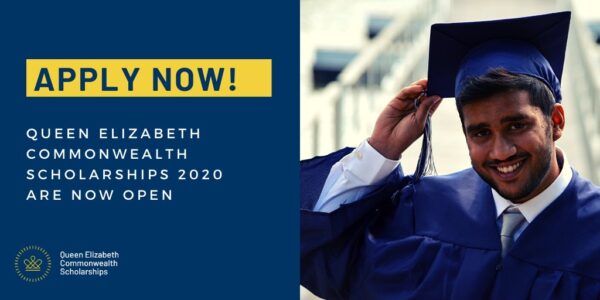 The Association of Commonwealth Universities in the UK is offering the Queen Elizabeth Commonwealth Scholarships to pursue a two-year research Master's program at Papua New Guinea University of Technology in 2021.This scholarship is only open to students from Commonwealth Countries.If you are reading this, it means you have heard about the Queen Elizabeth Commonwealth Scholarships 2020.
Scholarship Description
The Queen Elizabeth Commonwealth Scholarship awards offers outstanding students from any Commonwealth nation the chance to get a Master's degree while also experiencing livelihood in another nation, developing new skills, and growing their global networks.Prior to applying, please, kindly check that you meet the following eligibility requirements:Please follow the below steps to complete your application.Ensure that you have the following documents to upload along with your application:Papua New Guinea University of Technology will be hosting one (1) award in the following fields:Please check the application form for a list of eligible courses.
Available Subjects
Medicine, health and life sciences
Physical sciences, engineering and mathematics
Social sciences
Award recipients receive:
Eligible Nationalities and Benefits
Click Here To ApplyMany applicants have been asking us questions like;
Tuition fees
A living allowance (stipend)
An economy class return airfare to their Host country
An arrival allowance
A research aid grant. This is on request only and is subject to approval.
Requirements
Scholarship awards are for students dedicated to instigating change in their societies and contributing to the Sustainable Development Goals (SDGs). The scholarships are named in honor of Her Majesty, The Queen, Head of the Commonwealth and ACU Patron, and are fully funded and supported by numerous Commonwealth governments.
Medicine, health and life sciences
Physical sciences, engineering and mathematics
Social sciences
The deadline for the scholarship award application is 9th July, 2020 4pm (UTC +1). Applicants should ensure they submit their applications on or before the specified date/time.
You must be a citizen of (or hold refugee status in) a Commonwealth nation other than the nation hosting the award.
You should have an aggregated average of 65% marks or 2.65 GPA out of 4
If you can show English language skills with an English competency qualification, this will be a plus
You must have finished an undergraduate degree program with a 2:1 or an equivalent level (or that will allow you to gain entry to a postgraduate course)
The University may have their own specific eligibility requirements for admissions – please email the university for further information.
How to Apply
The Commonwealth, consisting of 53 countries, is a voluntary organization that promotes international cooperation and is underpinned by a set of values that advocate democracy, tolerance, respect, equality – and much more.Recipients of the scholarship awards will join a very active network of international alumni of more than 35,000 people who have once been granted the life-changing opportunities a Commonwealth Scholarship award offers and will add to the growth of the future Commonwealth.
High school certificate
Undergraduate transcript (as well as Degree certificate)
Complete a QECS application online
Submit a separate application for admission to your chosen course at PNG Unitech – this can be completed after you have submitted your QECS application.
Two references – preferably academic
Scan of passport or national ID card
Evidence of English language ability provided English is not your first language
If you have questions about applications for university course admissions at PNG Unitech, please contact:

[email protected]
In this article, we are going to systematically outline the right way to apply for the Queen Elizabeth Commonwealth Scholarships for interested and qualified applicants.
Deadline
Queen Elizabeth Commonwealth Scholarships application process at University of Technology in Papua New Guinea. Learn the best way to apply for the Queen Elizabeth Commonwealth Scholarships for the academic year 2020/2021, via University of Technology ScholarshipPortal.