DAAD Postgraduate Scholarship Scheme at Public Universities in Germany 2020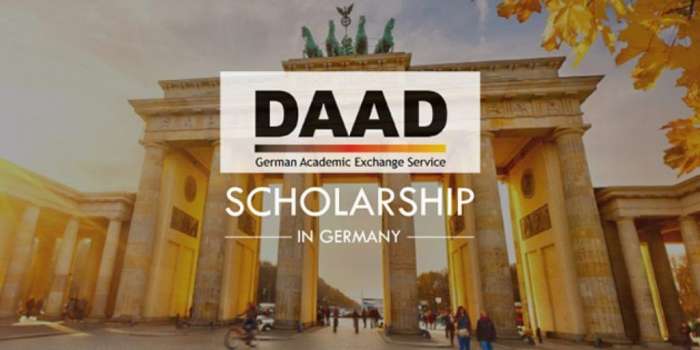 With its development-oriented postgraduate course programs, the DAAD furthers the training of specialists from developing and newly industrialized nations. Well-trained German (local) experts that are networked with foreign partners play a vital role in the sustainable development of their nations. They are the best guarantee for a better tomorrow with reduced poverty, greater education as well as health for all.IMPORTANT: Ensure that you hold a copy of every document of your application ready, as those documents (as PDF files) will have to be submitted by uploading them to the DAAD Portal in case you are nominated for a DAAD scholarship award.Documents Required for Application
Scholarship Description
Development-Related Courses.Applications forwarded to the DAAD won't be sent to the respective course/university.Good day to you reader. You being here means you have heard about the DAAD Postgraduate Scholarship Scheme 2020 and you are in search of information on how to go about the application process. Well, it is your lucky day.
Available Subjects
Each selected course has its deadline (September – December). Please, kindly consult the scholarship award brochure for more details.
Eligible Nationalities and Benefits
IMPORTANT: When you are applying for more than one postgraduate course (maximum of three (3) courses), you must submit one letter of motivation that explains the reason you are applying for these particular courses and why you selected that priority.In this article, the application process for the DAAD Postgraduate Scholarship Scheme at Public Universities in Germany will be duly outlined. You will learn the right way to apply for the DAAD Postgraduate Scholarship Scheme for the academic year 2020/2021, via DAAD Scholarship Portal.
Based on academic level, monthly allowance of 750 euros for graduates or 1,000 euros for doctoral applicants.
Allowance for health, accident as well as personal liability insurance cover,
Travel expenses are covered, except these costs are already footed by the home nation or a different source of finance.
Requirements
Applicants meet the necessary academic criteria and can be expected to successfully finish a study program in Germany (well above-average result for first academic examination i.e. top performance third, language skills).
Applicants possess a Bachelor degree (normally a four-year course) in a relevant discipline.
Applicants possess minimum of two (2) years' professional experience.
Applicants can prove that their motivation is development-related and be projected to take on social responsibility as well as commence and aid processes of change in their personal and professional environment after the completion of their training/scholarship.
Selection Criteria:
The last academic degree (usually a Bachelor's degree) should have been completed no longer than six years previously
At least two years' relevant professional experience
Language skills: Depending on chosen study program; please check scholarship brochure or the website of your chosen study program.
How to Apply
Step 1: You send your complete application(s) directly to the according postgraduate course.
Step 2: A selection committee suggests potential candidates for a DAAD scholarship.
Step 3: The suggested candidates will be contacted by DAAD to upload their complete application to the DAAD Portal.
Step 4: The selection process will be finalized, and the suggested candidates will be informed accordingly.
Interested and qualified? Go to German Academic Exchange Service (DAAD) on www2.daad.de to apply.In summary, this article is for interested and qualified candidates as they we will be explaining to them systematically, the appropriate way to apply for the DAAD Postgraduate Scholarship Scheme.
Signed DAAD application form with current date
Personally signed CV
Personally signed Motivation Letter (this will include reference to present occupation and selected of postgraduate program(s), maximum of two (2) pages) with current date.
Benefits of DAAD Postgraduate Scholarship Scheme
Recommendation Letter from your present employer; the letter must be on a letterhead, a signature as well as official stamp and should be of current date (not in a sealed envelope)
Employment Certificate(s) from the employer(s) that show at least two (2) years of significant working experience (after the bachelor's degree) at the time of applying and where possible, a guarantee of re-employment from your present employer upon your return home.
Proof of Language Skills:
English – TOEFL or IELTS (Note: The institutional TOEFL will not be accepted)
German – required for courses that will be taught in German.
Copies of Academic Degrees (certified translation if necessary)
Copies of Academic Transcripts, incl. grading-scale (certified translation if necessary)
Applicants from the People's Republic of China are asked to submit an APS Certificate with their application documents.
You can apply for up to three courses. If putting in applications to more than a course, please, kindly list the courses in order of priority in the DAAD application forms (see 7. Preferred host university or institution in Germany) and don't change the priorities in the according application form.This scholarship is open to students from countries all over the world.The application deadline for DAAD Postgraduate Scholarship Scheme at Public Universities is Not Specified. Applicants should ensure they submit their applications as soon as possible.Applications only have to be forwarded directly to the respective course. Please, kindly check their respective websites for the application processes (for example, online application), for the application deadline and the documents to be submitted.Visit Award Webpage for Details
Deadline
The scholarship awards provide international graduates from developing and newly industrialized nations from all fields and with at least two (2) years' professional experience the opportunity to undertake a postgraduate degree at a state or state-recognized German university, in Germany.