African SA-GER-CDR Scholarships at Ruhr-University Bochum in Germany 2020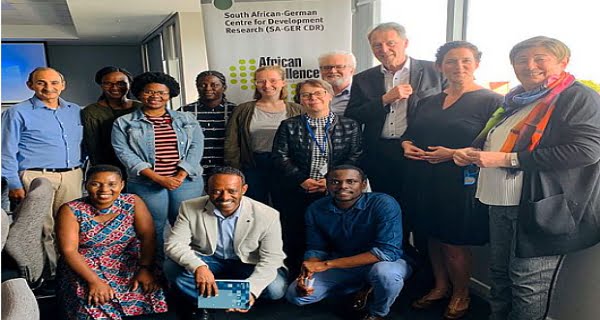 It is necessary to go through the Application criteria Scholarship Webpage beforeapplying.If you are reading this, it means you have heard about the African SA-GER-CDR Scholarships 2020.To adequately prepare the new generation of leaders through research-oriented training, it isn't enough to have the possibility to grant scholarships to promising applicants from all over Sub-Saharan Africa (SSA), but it is also germane to uphold a strong research focus on the work of the center and to work together closely with other leading universities in the region.
Scholarship Description
In addition to program requirements, all applicants have to meet the following requirements:African SA-GER-CDR Scholarships application process at Ruhr-University Bochum in Germany. Learn the best way to apply for the African SA-GER-CDR Scholarships for the academic year 2020/2021, via Ruhr-University Bochum Scholarship Portal.Visit Scholarship Webpage for details
Available Subjects
For students from Sub-Saharan African (SSA) countries with an outstanding academic record, the DRD– Institute of Development Research and Development offers DAAD excellence scholarships every year.
MA in Development Studies
Master in Public Administration
the MA in Development Management (Bochum Program, next deadline 30 November 2021)
PhD options at the CDR
Eligible Nationalities and Benefits
In this article, we are going to systematically outline the right way to apply for the African SA-GER-CDR Scholarships for interested and qualified applicants.
Requirements
Scholarship candidates are greatly advised to carefully read about the precise entry criteria and course application procedure of the degree program of their choice. The information is available from the respective programs sections.The deadlines for the scholarship award application are as follows;
Applicants should be from Sub-Sahara Africa
Candidates should have an excellent academic record – at minimum, 70% for your last degree
Candidates should apply within six (6) years of having completed the previous degree
The study must have been completed at an internationally recognized university
The previous degree (Baccalaureus or Master) must have been an academic discipline that is related to Public Administration or Development Studies.
South African students are required to have an honors degree in order to be admitted to a Master's degree course. Other applicants need the equivalent of a 4 year undergraduate degree.
Applicants must provide evidence of proficiency in English, both written and spoken. This said evidence can be TOEFL test or a similar standard test or a letter from a renowned academic institution
Work and/or voluntary experience in your area of interest would be a welcomed recommendation
Women are highly encouraged to apply
South African students are highly encouraged to apply
Candidates must be able to study fulltime at the UWC for the required duration.
How to Apply
Candidates will have to complete an electronic application form
The e-form can only be submitted once, so, please ensure that your application is complete before submitting it!
Scholarships are available for full-time students ofApplicants should ensure they submit their applications on or before the specified date.
Deadline
This scholarship is only open to students from Sub-Saharan African countries.
the MA in Development Studies (next deadline 20th June 2020, online application is available in the "How to apply" section of the Program)
the Master in Public Administration (next deadline 30th June 2020, online application is available in the "How to apply" section of the Program)
the MA in Development Management (Bochum Program, next deadline 30 November 2020)
(separate online application platform, access and guidelines via "How to apply" section of the Bochum program or via the course homepage)
the different PhD options at the center (PhD UWC) (next deadline 20th June 2020, online application is available in the "How to apply" section of the Program)
Many applicants have been asking us questions like;